modern music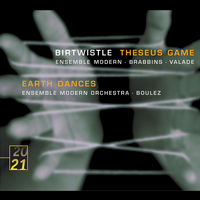 Harrison Birtwistle: Earth Dances. Boulez, conductor.
Have somebody heard music of this composer? I've only heard some short clips on the internet, but it moved me very much. The music is dynamic, powerfull and full of rhythm.
This one I bought from amazon. The composer is Bruno Maderna, born in Venice and who lived from 1920 to 1973. He was also a conductor and started touring as violinist and conductor when he was 7. His work Aura is great.
Brahms: Piano Concerto No 1 - Krystian Zimmerman/Berlin Philharmonic/Simon Rattle
I think the no 2 concerto is much better than this first one.
Does anyone know these recordings?